Click to Download Geotextile Brochure
For Foreign Customer ,please contact :(+66)94-745-5569 Khun Yoks(Thanutsorn), Email : contact@greeninspired.co.th
NON WOVEN GEOTEXTILE FABRIC by GreenInspired
EFFICIENCY OF GEOTEXTILES
Separation: Entirely separation between upper and lower layer of materials after installing Geotextiles.
Drainage: Excellent drainage of water in both horizontal and vertical direction, due to the unique characteristics of Geotextiles fabric.
Filtration: Water permeability (more than 10-2) equivalent to sand in both horizontal and vertical direction clogging under the normal conditions.
Reinforcement: Stabilize geotechnical structure and increasing soil shear capacity due to its flexibility and a high abrasion coefficient.
BENEFITS:
Filtration and Drainage:Great filtration rate to drain water from random filament. It can effectively drain the water in both horizontal and vertical direction.
High durabilityagainst weather and temperature variations. And good stability under the various circumstances both in the water and in the ground.
Creep Resistance: High creep resistance under a load period, compared with other materials.
Stabilization of Soft Ground: Due to high strength and high elongation, can take the load of embankment, and makes soft ground well-stabilizes.
Improves traffic abilityof heavy building machinery.
Soil layer separationbetween soft ground and embankment.
SPECIFICATION
Material   : 100% Polyester
Dimension  :   2×100 m , 3×100 m, 4×100 m
Thickness  : 0.8 mm – 2mm
Weight  : 120g – 400g
Color   : Black, White
APPLICATIONS
Low and High Embankment:
Prompt drainage of surface water and can flow in horizontal direction. And not allow the water flow into high embankment.
Stabilization of imported soil from separated soil layers. Improvement of stress distribution and reinforcement of slope as a result of installation of geotextiles.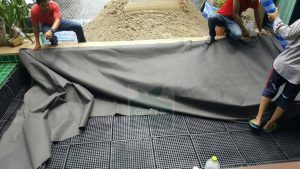 Erosion Control and Surface Protection: Geotextiles can drain only the water without allowing the soil particles flow away from its place.
Use at the back of port embankment.
River banks underneath of joint blocks.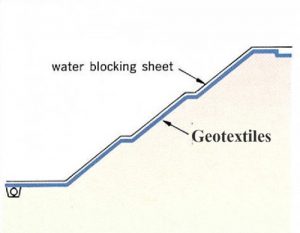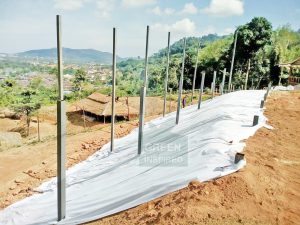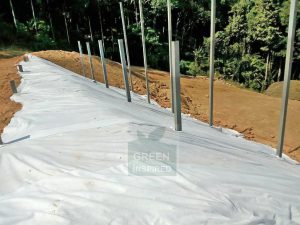 Erosion control of assembling conduit for agricultural irrigation canal.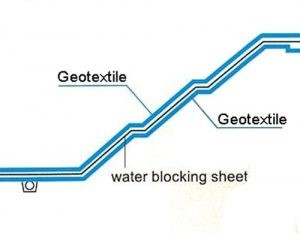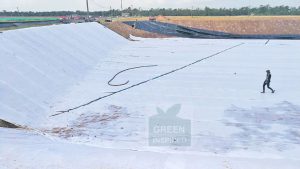 Drainage Filter around Perforated Drain pipes
Geotextiles effectively resists clogging, and has water permeability equivalent to sand as well as good draining effect for a long time.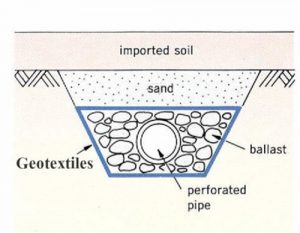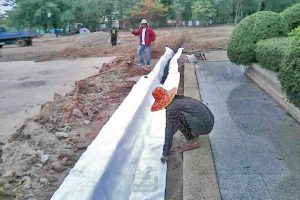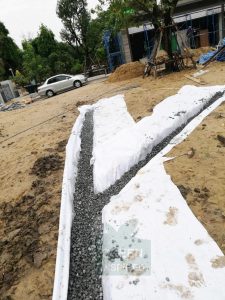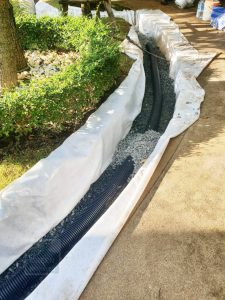 Erosion control of assembling conduit for agricultural irrigation canal.