Click to Download Drain Grid Brochure
For Foreign Customer ,please contact : (+66)94-745-5569 Khun Yoks(Thanutsorn), Email : contact@greeninspired.co.th
DRAIN GRIDTM
DRAIN GRIDTM is an eco-friendly rigid, high strength recycled plastic sub-surface drainage cell.
DRAIN GRIDTM provide highly efficient capture rate with high storage and discharge capacity.
DRAIN GRIDTM is designed for various drainage applications eg.planter boxes, roof garden, lawn, artificial grass or sport turf.
DRAIN GRIDTM is light-weight with interlocking module for quick and easy to install. It eliminates the use of traditional sub-surface drainage by massive and heavy gravel.
DRAIN GRIDTM provides good condition for plant roots through optimal moisture contents and aeration.
DRAIN GRIDTM protect waterproofing membrane on roof slab from UV and thermal changes. And also function as roof slab ventilation for reducing building temperatures.
APPLICATION of DRAIN GRIDTM
Intensive Green Roofs (soil depth from 300mm to unlimited)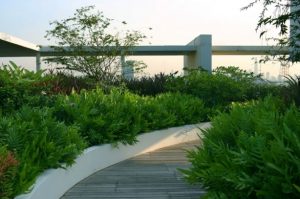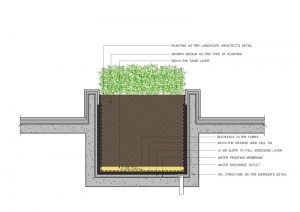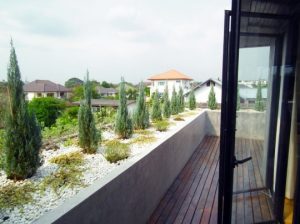 Roof Garden and landscape decks
Planter Boxes
Sport Turf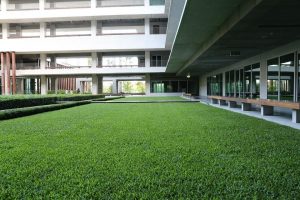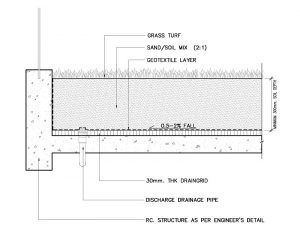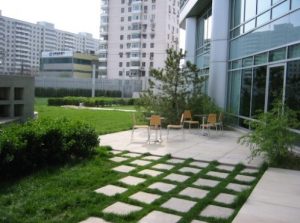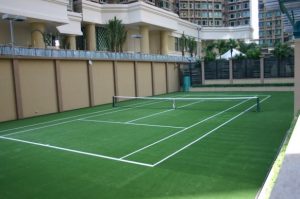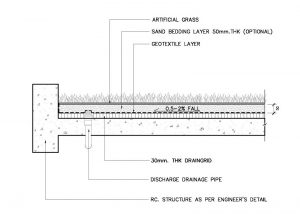 Drainage for Basement walls, Retaining walls and Underground structures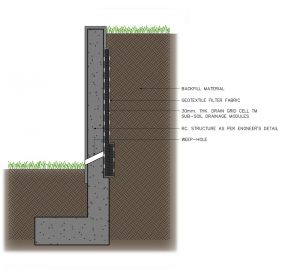 Paved areas and Roadways
Golf Courses
Drainage layer with minimal thickness
Roof Slab ventilation
Gutter Grating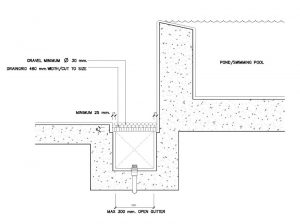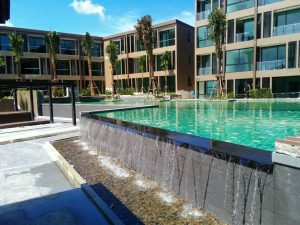 ADVANTAGE FEATURES of DRAIN GRIDTM
High Internal Void with high flow rate. Rapid capture and effective return of drained water to planting
High compressive strength with light-weight and very thin layer
Quick and Easy to Install with interlocking module
Allow greater soil depth for plants with airflows beneath root zone for healthy vegetation
Enhances Green Area to creates ecological habitat with less "Urban Heat Island Effect" and reduce site temperature
Protect waterproofing layers and lengthen the life expectancy of roof slab
INSTALLATION GUILDLINE
Install the waterproofing layer (sealant of membrane)above the prepared structural slab, according to manufacturer's guidelines for seams, joints, bonding, etc. Cement mortar screeds shall be applied for drainage slope with at least 1:200 slope
Install the DRAIN GRIDTM by placing and interlock the units.
Units can be easily shaped or cut with hand saw. Units' places or vertical surfaces shall be secured as appropriate to maintain units in place.
The ends and the edges of all install DRAIN GRIDTM shall be properly sealed with geotextile to ensure soil, growth medium cannot enter the units.
Covering DRAIN GRIDTM by overlay geotextile (fabric or membrane) as specified, according to manufacturer's guidelines.
Ensure that any sharp objects on the subsurface are removed to avoid damage of fabric or membrane liners
Place cover materials (soil backfill, substrate, flooring, pavement, etc,) on top as specified. Backfill materials shall be used and compacted by hand or using light hand tool.
Specifications
Material                                     : Polypropylene (PP)
Dimensions                                : 480 x 480 x 30 mm.
Weight                                       : 3.60 kg/sqm.
Color                                         : Black
Compressive strength                  : 1,000 kn/spm.
Discharge Capacity                      : 350 litres/min./m.@1% gradient